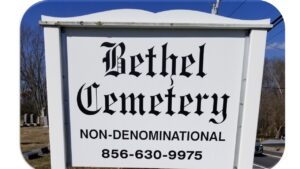 Set amidst the backdrop of tall pines and shade trees
Bethel Cemetery dates back to the late 1700s as the final resting place of families who were involved in the early formation of the surrounding community. On a stroll through the cemetery you will see names familiar in the area, such as Hurff, Turner, Dilks, Atkinson, Chew, Fisler, and Early.
Throughout the cemetery's history, more than 600 men and women from our country's armed forces also have been buried here. Each year, we honor the memory of those who are known to us by placing flags on their grave sites ahead of Memorial Day.
The cemetery is non-denominational and offers a large selection of well-maintained plots, with both upright and flat stone sites available. Cremated remains may be interred as well.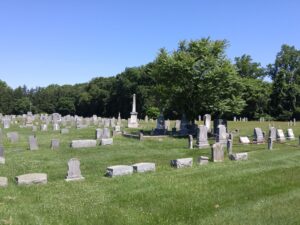 Please contact the Cemetery Clerk
t
o make burial arrangements or request information ~
E-mail:
Monday – Friday 9 a.m. to 5 p.m.
The grounds of Bethel Cemetery are open to visitors year-round, 7 days a week, from dawn to dusk.